The compacting die is widely used for stranding,compacting and bunching the wires,which is used in cable industry.
Transmo Dies offer a economical solution to get good quality cable and low cost.
Transmo have expertly engineer team design and make the compacting dies as customer¡¯s demand and drawings.
Die Geometry Profile
Wide entrance area
Stardard reduction angle is 18¡ã-26¡ã
Good blended angle without sharp edges.
Back relief area
Blank (Nib) material
Tungsten Carbide(TC),Polycrystalline Diamond(PCD), natural diamond(ND), synthetic monocrystal diamond(SMCD),Nano coating diamond(NCDC)
Casing
Stainless steel and steel 45 with tempering
Hole size range
Natural diamond:0.1-1.6mm
Synthetic single crystal:0.1-1.6mm
PCD:0.1-29mm
TC:0.2-50mm
NCDC:1mm-60mm
Applications
Aluminium cable,Copper cable and other cable.
Split compacting dies
The material of split dies is tungsten carbide,The material of case is stainless steel or steel 45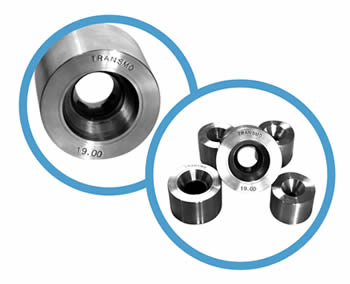 Advantage of split dies
No need to re-string the wire through the die
Longer bearing length to get better cable surface quality
Improving working efficiency and reduce the down-time.
The hole size range:0.20mm-50.00mm

How to order our products.pdf